TATSUMI RYOKI HISTORY
Our company has a proven track record all over japan as the developer and manufacturer of "dry load banks". In recent years, we have answered societal needs for environment-friendly technology with "high efficiency solar water heaters" and "small wind power generator," which we have commercialized, and conduct all steps from manufacturing to installation with in-house capability. Below, we will introduce our past efforts.
April, 1964
The father of current president Toyoshi Kondo founded the company "Kondo Kogyo" as a family business. He worked on processing of joint iron plates during bridge construction.
October, 1969
Expanded business as a partner company of Ishikawajima Shipbuilding Chemical Machines.
April, 1970
Constructed our company factory at 3 Higashisuna, Koto, Tokyo
In addition to bridge construction, expanded business to installation work for power generation equipment and construction work for electrical equipment.
March 2nd, 1974
Become a Corporation from a family buisiness, and changed our name to "Tatsumi Ryoki, Co. Ltd."
June 1st, 1974
The Fire Service Act was amended, and installation of emergency power generation facilities became mandatory for buildings above a certain size, which resulted in booming of power generation equipment installation all over Japan.
Tatsumi Ryoki receives an influx of orders for the installation of power generation facilities (e.g., residential generators on the rooftop of the 10th floor of the Akihabara Electric Building.
Seeing the installation of power generation facilities for disaster preparedness as an opportunity for creating a new market, the company has shifted its focus area from conventional bridge construction business to form a new business model on new power generation facilities installation business.
June, 1979
With the significant increase in orders for installation work, we moved our headquarters office and main plant to 6 Higashisuna, Koto, Tokyo.

Headquarters

March, 1984
Having outgrown the main plant, we moved the headquarters office and main plant again to 6-12-5 Higashisuna, Koto, Tokyo.
August, 1992
Constructed our production base at Togane depo(1,200㎡) in 3429-1 Matsunogo, Togane, Chiba.

Chiba Office

September, 1995
President Toyoshi Kondo comes up with the idea of creating "test inspection equipment (load resistors) which do not use water at all, so that there is no risk of electrical shock or electrical leakage." Based on this idea, and as a result of trial and error, we developed a "dry load bank". This uses a fin heater, which is an electrothermal body with heat dissipating fins wrapped around the resistance surface of an electrically conductive resistance body. This was commercialized, and the first unit was delivered to a generator manufacturer.
April, 1996
Expanded the Chiba Office.
November, 2000
Constructed the Tokyo office (1,204㎡) in7-16-12 Higashisuna, Koto, Tokyo, to handle small rental products.

Tokyo Office

June, 2003
Obtained certification with the international standard ISO-9001 (2000) regarding quality management systems.
We strive to provide high-quality service systems so that we can quickly and accurately meet customer needs.
Oct, 2004
Construction of the Shanghai depo, China (1,050㎡).
* mainly handling large rental products, with distribution centers to deliver to customers across Japan, in 6 locations: Hokkaido, Akita,Tochigi (Nasu), Tokyo, Hyogo (Kobe), and Fukuoka, with a maintenance equipment center in Tokyo.

Shanghai Depo

June, 2006
Obtained certification for the ISO14001:2004 international standard for environmental management systems.
April, 2007
Environment Division is launched
November, 2008
Construction of the Tokyo Distribution Center (660㎡).
May, 2009
Construction of the Fukuoka depo (840㎡).

Fukuoka Depo

June, 2010
Construction of the Kobe depo (1,100㎡).

Kobe Depo

March, 2011
Construction of the Tokyo depo (1,500㎡).
March 16th, 2011
Conducted relief activities following the Great East Japan Earthquake and Tsunami. The following equipment was provided to elementary schools and evacuation centers: 100kW L-10 load device (for heating)×2, and one each of 75kVA, 150kVA, and 500kVA generators.
March 21th, 2011
As the emergency generator at the Hirosegawa River purification plant in Sendai, Miyagi was sunk in a flooded because of Tsunami, and our 6kV/1000kVA is used as a temporary power source.
September, 2011
Began Research & Development (R&D) activity on windmills, and installed one at the roof of our office building.
June, 2013
Installed, as a CHAdeMO member, instantaneous power charging equipment at the Tokyo office.
October, 2013
Entered into the "Agreement on power supply in the event of a disaster" with Koto Ward, Tokyo.
March, 2014
We marked our 40th anniversary.
June, 2014
Construction of the Urayasu depo (1,331㎡).

Urayasu Depo

November, 2014
Founded the Japan Energy Safety Association (abbreviation JESA: Jesa).
April, 2016
Expanded our headquarter building and built a vehicle center (475㎡).
April 15th, 2016
Entered into a business alliance with Aggreko Japan, the world no. 1 provider of modular power generation solutions.President Kondo attends the opening ceremony for Aggreko Philippines' First Depo on May 16th.
June 28th, 2016
Obtained the ISO information security certification, ISO27001.
For dry load banks, we currently have products ranging from low voltage to high voltage with capacities of 4,500 kW or 8,500 kW and voltages of 6,600 V to 13,200 V. We have a track record of approximately 250 units delivered so far. These dry load banks have received approximately 80 patents in Japan, Asia, the USA, Europe, etc., and are used widely as environmentally friendly load testing units within the self-generation industry.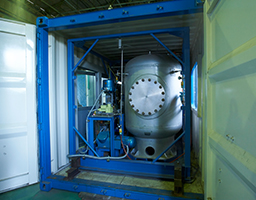 The "Japan Energy Safety Association (JESA)" was established with a mission to promote security of energy equipment, in particular, for the promotion of load testing for emergency power generation equipment with a cumulative number of installed units in Japan to recored about 20 million units, which the association supports actively.
Due to the malfunction of many emergency generators after the Great East Japan Earthquake and Tsunami, "JESA" (
http://www.e-jesa.or.jp/
) calls for regular maintenance.
We sell and install high-efficiency solar water heating units and small wind power facilities, as well as hybrid systems combining the two, in order to achieve our to become a true environmentally friendly company.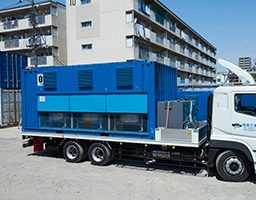 We plan to progress from "using" energy to "storing" energy, and we will continue to push forward in our research and development of hydrogen, battery cell, geothermal, and other renewable energy sources.